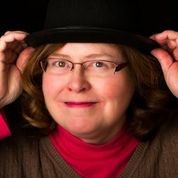 I write fiction, nonfiction, and drama, and work as a legislative attorney. Formerly, I served as a reference librarian in a law school library. A book I co-authored has been used as a text to teach legal research to South Carolina law students and paralegals and as a reference source for lawyers.
My short stories have appeared in print anthologies and online in the Bethlehem Writers Roundtable and Kings River Life. My plays and musicals have been produced by the St. Paul's Players at St. Paul's Evangelical Lutheran Church in Columbia, South Carolina.
A native of Columbia, I'm a triple graduate of the University of South Carolina with a Bachelor of Arts in English and Theatre, a Master's in Librarianship, and a Juris Doctor. I've participated as a moderator for the South Carolina Book Festival, Malice Domestic, and Killer Nashville; am a member of the Mystery Writers of America, Sisters in Crime, Short Mystery Fiction Society, Romance Writers of America, and American Christian Fiction Writers; serve as a Member at Large on the Steering Committee of the Guppy Chapter of Sisters in Crime; and am the President of the Palmetto Chapter of Sisters in Crime.