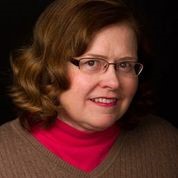 NEW! "A Matter of Honor" by Robert Dugoni and Paula Gail Benson appears in KILLER NASHVILLE NOIR: COLD BLOODED, released October 27, 2015.
NEW! Paula contributed to WE'D RATHER BE WRITING: 88 AUTHORS SHARE TIMESAVING DINNER RECIPES AND OTHER TIPS, available October 30, 2015.
The Train's on the Tracks" was published in FISH OR CUT BAIT: A GUPPY ANTHOLOGY on April 7, 2015.
"Long in the Tooth," which originally placed third in the Bethlehem Writers Roundtable 2013 Short Story Competition judged by Hank Phillippi Ryan, and appeared online in the June 2013 Bethlehem Writers Roundtable at http://bwgwritersroundtable.com, was included in LET IT SNOW: THE BEST OF BETHLEHEM WRITERS ROUNDTABLE, WINTER 2015 COLLECTION.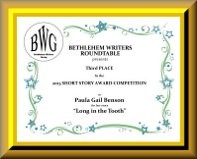 With other authors, Paula blogs at http://thestilettogang.blogspot.com and http://writerswhokill.blogspot.com.
Her personal blog is http://littlesourcesofjoy.blogspot.com.
Photos of Paula by John Frick